At Saatu we provide you with the best organic raw nutrient filled elixirs from the beautiful island of Phuket, Thailand. Cold-pressed in individual batches, each one of these elixirs is our special combination of produce acquired from local farms in Thailand. This process is personally supervised by its founder, Kwanjit Doldinger.
Spectacularly blended to invigorate the body and activate total well-being. From our own organic wheatgrass, with its multitasking high alkalinity and cleansing properties to our super turmeric elixir a must in reducing inflammation; for digestive health our apple cider vinegar elixir will keep your tummy on track; then there is the activated charcoal elixir, detoxifying and restorative, it will keep your body operating as a clean machine. All of these ingredients make Saatu health and well-being elixirs the catalyst to propel you into an extraordinary life.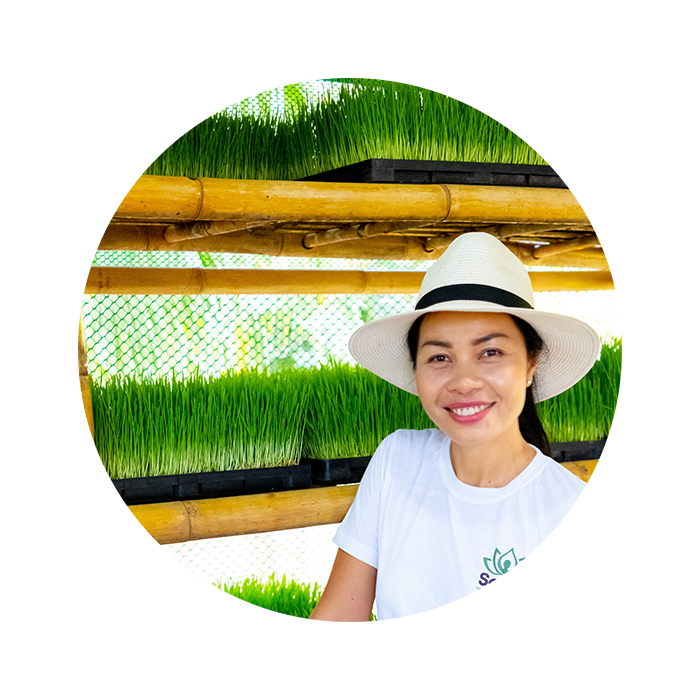 Our Founder:
Kwanjit Doldinger
A dream is born into a reality…
Born in the northeast of Thailand in the Isaan Province, this humble farm girl had a dream and the drive to make a difference in her life. Coming to Phuket to experience island life and the beauty of the Andaman Sea, there was a burning inside of her to be something more. At one point, a close friend who had a local juice stand was in need of some help. She had to travel back to her village to take care of her mother who was sick and Kwan offered to take care of her business until she returned. Unknown to Kwan at the time, this experience would be the driving force in the creation of her first business, The Organic Wheatgrass Solution.
Here, Kwan developed a successful organic wheatgrass business over the next five years. As this business grew, her interest in health and well-being gave birth to her new company, Saatu. From her humble beginnings, Kwan offers thanks each day for the ability to share the powerful goodness that the earth has to offer.